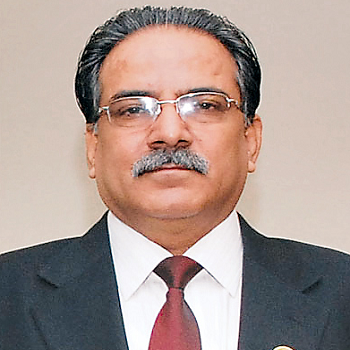 Kathmandu, April 27
CPN (Maoist Center) chair Pushpa Kamal Dahal Prachanda has said teachers have the significant and decisive role in bringing political changes in the country.
During his meeting with a delegation led by World Federation of Teachers Unions (WFTU) president Ms Mahfuza Khanam at his private residence Baluwatar, he highlighted the contribution of teachers to Nepal's political and educational movements.
"Teachers had contributed a lot to movements against unfair systems and to the decade-long people' war in the country," he said, adding that recent political change at home had led the country towards a path of economic change.
The WFTU is to host its 19th world conference in coming September in Nepal and its representatives who arrived here in course of the conference preparations reached Khumalatar to call on leader Dahal.
On the occasion, the former Prime Minister said he was pleased to hear that the conference was being held in Nepal. He took the time to say that most of the party leaders are from the teaching background.
The WFTU president the teachers' struggle in Nepal was a matter of pride for the world. Terming Dahal as an ideal personality and source of inspiration for the entire teachers' community, she expressed her gratitude for courtesy showed by Dahal towards the delegation.
The WFTU that advocates against imperialism comprise one member from Nepal, three from India, two from Bangladesh.