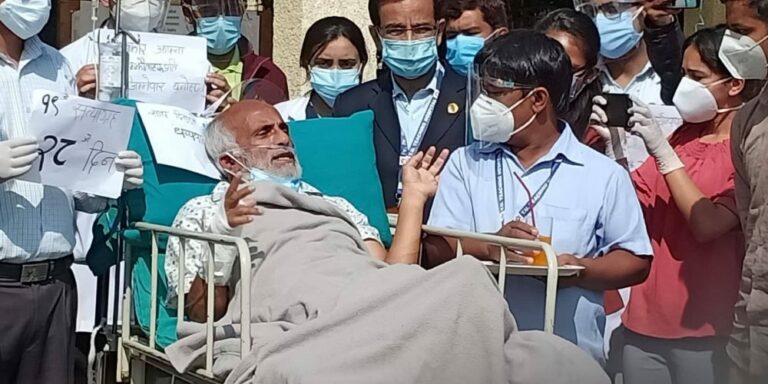 11 October 2020, Kathmandu
Dr. Govinda KC has ended his 19th hunger strike on Sunday morning following an eight-point agreement with the government last night.
KC drank juice offered by a sanitation worker 46-year-old Bikash Nepali to break his hunger strike on the 28th day at TU Teaching Hospital, Maharajgunj. Dr. KC will be now admitted to the ICU.
The agreement has been reached between Dr. KC and the coordinator of the government's talk team, Secretary at the Ministry of Education, Gopi Mainali, late night.
The government and Dr. KC have agreed to run an MBBS program at Karnali Institute of Health Sciences from next year.
Similarly, the two sides have also agreed to conduct educational programs, including MBBS at Geta in Sudurpaschim Province, Bardibas in Province 2, Pokhara Institute of Health Sciences, and Rapti Institute of Health Sciences by February 22, 2024, after completing all legal procedures and construction of physical infrastructure.
The government and Dr. KC have also agreed to expedite the opening of government medical colleges in Doti or Dadeldura, Udayapur, and Ilam or Panchthar, to expand PCR testing for COVID-19, and to provide a budget for free healthcare at Bayalpata Hospital, among others.
It may be noted that the government had on Wednesday formed a team to hold talks with Dr. KC.