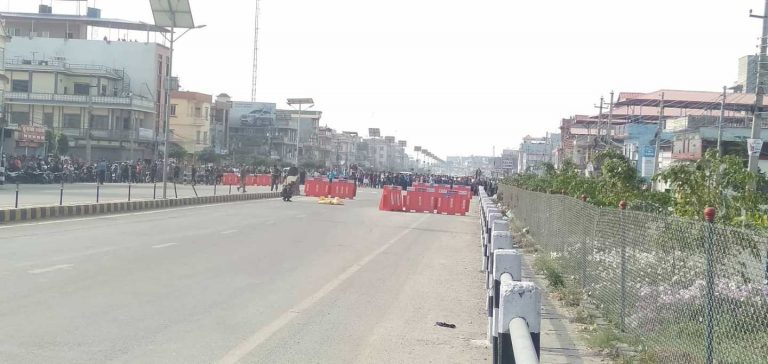 4 October 2020, Butwal
Twelve places in Butwal Sub-metropolitan City have been declared as prohibitory areas after agitation started against the provincial government's proposal to make Deukhuri area of Dang the permanent capital.
The District Administration Office, Rupandehi, has declared the places around the Province Assembly and Office of Chief Minister and Council of Ministers, among others as prohibited zones from Sunday till Wednesday.
Crowds, gatherings, processions, demonstrations, and other activities are prohibited in the restricted areas. The administration has warned that action will be taken if more than five people were found together.
Meanwhile, the ruling Nepal Communist  Party (NCP) has decided to issue a whip to its lawmakers to vote in favor of the proposal of permanent capital and province name submitted by the government to the Provincial Assembly.
A meeting of the Parliamentary Party held at the official residence of Chief Minister Shankar Pokharel on Saturday decided to issue a whip to vote in favor of the proposal, said Chief Whip Bhumishwar Dhakal.
He said that if anyone violates the parliamentary party's whip, action will be taken as per the party's statute.
Dhakal said that the provincial assembly members of Palpa, Rupandehi, and Kapilvastu aired differing views on the government's proposal.
In response to the province assembly members' views, Parliamentary Party leader and Chief Minister Shankar Pokharel directed not to go against the party's decision.
At a meeting, 14 lawmakers from Rupandehi, Kapilvastu, and Palpa disagreed with the government's proposal to shift the province capital.
Meanwhile, the Nepali Congress (NC) Rupandehi Chapter has decided to launch a phase-wise agitation against the proposal to make Dang the permanent capital of province 5.
NC District Secretary Ram Krishna Khan said that the decision was taken to hold a hold torch rally, enforce a strike, and hoist black flags in front of Nepal Communist Party lawmakers' houses.
After the proposal of naming the province and permanent capital was tabled in the provincial assembly on Friday, the party had protested by burning tires at various places in Butwal. The party staged torch rallies in different areas of the district on Saturday evening.
He said that the district closure has been called for Sunday.