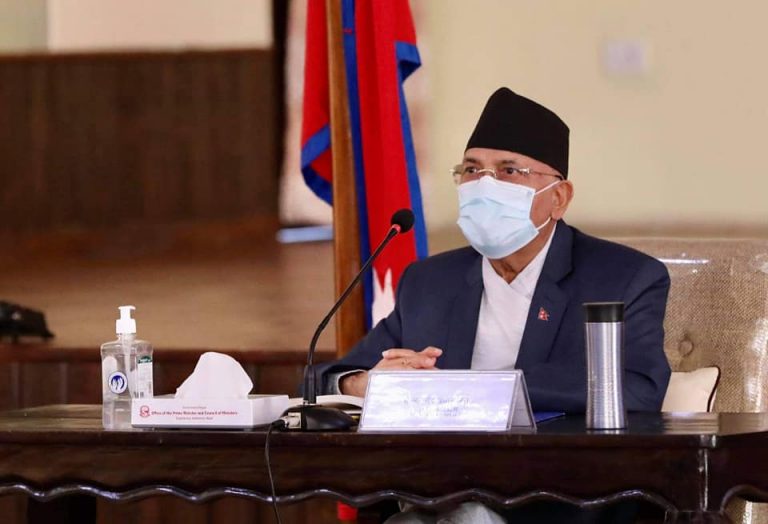 17 August 2020, Kathmandu
The ruling Nepal Communist Party (NCP) is convening a meeting of the Secretariat  today.
The meeting is likely to formalize the task force formed by a meeting of the NCP Chairman Pushpa Kamal Dahal and Prime Minister KP Oli on Friday besides discussing other internal issues that have surfaced in the party of late.
The members of the party Secretariat are meeting exactly one month after the previous meeting, which was held on July 18.
Today's meeting will also review the performance of the government, a highly-placed party source told Khabarhub.
NCP Spokesperson Narayan Kaji Shrestha said the meeting, besides discussing the current issues, will also provide an impetus to the party.
It may be noted that NCP senior leaders Jhala Nath Khanal and Madhav Kumar Nepal as well as Spokesperson Shrestha had last week demanded a meeting of the Secretariat in a bid to endorse the decision of PM Oli and Dahal on Friday to form a six-member task force to resolve the disputes.
The task force led by NCP General Secretary Bishnu Paudel has Shankar Pokharel, Bhim Rawal, Janardan Sharma, Surendra Pandey and Pampha Bhusal as members.
The task force held its first meeting on Saturday. The ruling NCP was caught in a quagmire due to the rift between PM Oli and Dahal on power sharing issues.
The dispute further escalated after PM Oli "unilaterally" postponed a meeting of the Standing Committee on July 28.
However, the disgruntled section led by Chairman Dahal continued with the meeting and labelled PM Oli's decision as "unfortunate".
PM Oli and Dahal resumed their talks on Thursday – a day after PM Oli, in a television interview last Wednesday, had said that the intra-party rift would be narrowed down within five days, and that the countdown had begun the same day.
Prime Minister Oli and NCP Chairman Dahal were at loggerhead earlier on convening the meeting of the Secretariat.
While PM Oli had insisted on convening the Secretariat meeting, Dahal had proposed a meeting of the Standing Committee to thrash out the intra-party differences.
Meanwhile, highly-placed party source conceded that PM Oli is likely to induct the Secretariat members, barring leaders who have already become the Prime Minister, in his cabinet.
The source added that PM Oli has already consulted legal eagles on whether NCP Vice Chairman Bam Dev Gautam can be given the portfolio of a Deputy Prime Minister as Gautam is not an elected member to the House of Representatives or the National Assembly.
Likewise, PM Oli is also likely to induct Bhim Rawal and Surendra Pandey from the Madhav Kumar Nepal camp, Janardhan Sharma, Pampha Bhusal and Prabhu Sah from the Dahal camp as ministers.