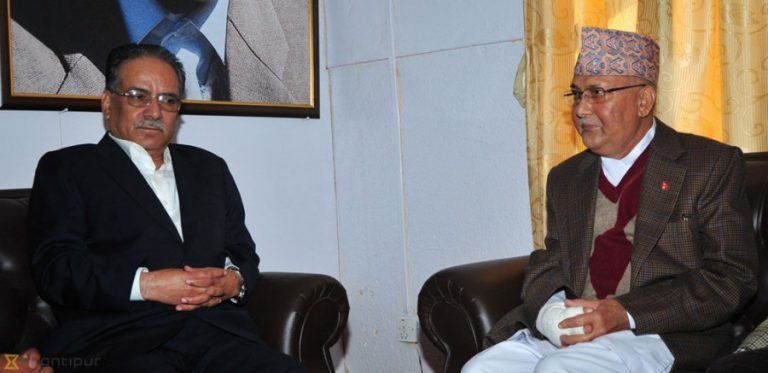 19 December 2020, Kathmandu
Prime Minister KP Sharma Oli is holding a one-on-one meeting with Nepal Communist Party (NCP) Executive Chairman Pushpa Kamal Dahal alias Prachanda at the latter's residence in Khumaltar on Saturday morning.
Prime Minister Oli reached Prachanda's residence at Khumaltar few minutes ago, according to Dahal's Press Coordinator Bishnu Sapkota. This is the first time Oli is visiting Prachanda's residence following his election as the Prime Minister.
Prime Minister's Khumaltar visit is viewed as meaningful at a time when the intra-party dispute of the ruling NCP has touched a new height, mainly after the government introduced an ordinance on the Constitutional Council.
On Friday evening, Prachanda had reached Baluwatar to meet another Chairman and Prime Minister KP Oli. During the one-on-one meeting that lasted for an hour dwelled on the implementation of the agreement reached between the two chairmen, according to Baluwatar sources.
Both Oli and Dahal-Nepal factions have intensified meetings of various levels across the country to turn the tables in their favor.
Dahal-Nepal faction held a gathering of district chairpersons and secretaries of Province 1 at Peris Danda on Friday. In the gathering, Dahal and Nepal directed the cadres to hit the streets against Oli if the Constitutional Council Ordinance were not withdrawn.
Last week, Dahal-Nepal faction had organized a Bagmati Pradesh level gathering of its leaders. Relegated to minority in Secretariat Committee, Standing Committee and Central Committee, Prime Minister Oli, who is also the party chairman, is visiting Khumaltar to coax Dahal, according to political experts.